Vietnam's Pandemic Success Is a Lesson for the World
Dec 20, 2020 • omeg16
Source: https://www.globalasia.org/v15no3/cover/vietnams-pandemic-success-is-a-lesson-for-the-world_sen-nguyen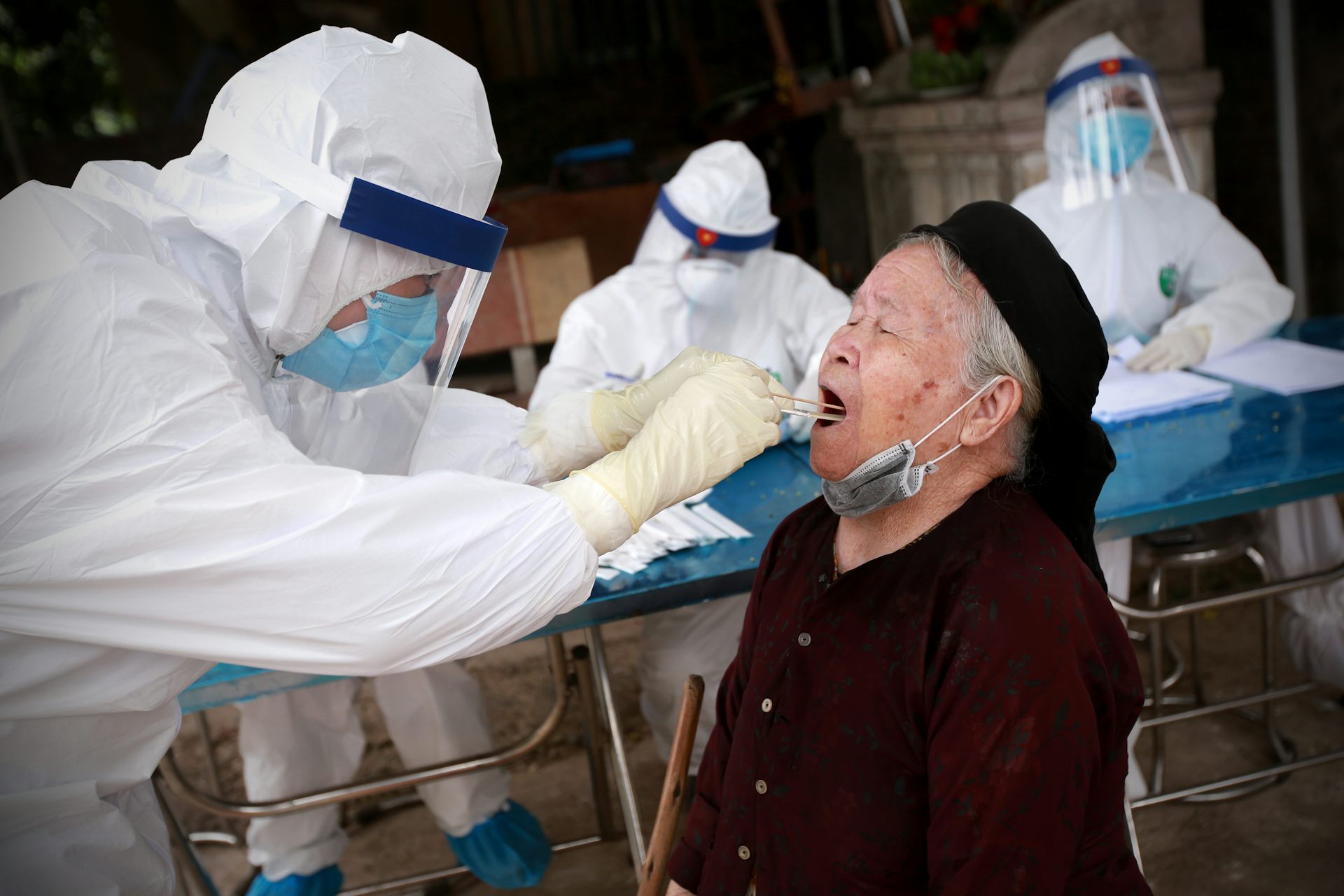 A woman is tested in Ha Loi village in Hanoi which was put in 28-day quarantine on April 8 after a resident tested positive for COVID-19. Luong Thai Linh/EPA. Credit: theconversation.com.
On July 31, six days after Vietnam officially confirmed the beginning of the third wave of community transmissions, ending its 99-day streak of zero local infections, Vietnam lost its first person to Covid-19. The 70-year-old patient in central Vietnam, who was linked to the wave set off in Vietnam's third largest city, Da Nang, in late July, reportedly died of coronavirus and several underlying conditions. On the same night, another man, 61, was pronounced dead due to Covid-19 and comorbidities. The following morning, a 68-year-old woman was claimed by Covid-19 and other severe illnesses.1
Repeated fatalities in less than 24 hours dealt a huge blow to the national psyche. Prior to the deaths, most people in Vietnam basked in pride that theirs was the most populous country in the world to not have recorded a coronavirus death while bigger and richer countries mourned deaths that multiplied by the hour.
But Vietnam's tallies remain minuscule in comparison with those of more powerful and well-off nations. After Vietnam, historically a poor country, adopted the economic reforms known as Doi Moi in 1986 it achieved rapid progress and has become a middle-income country, though the wealth disparity between the working class and the rich is still vast. As of Sept. 15, Vietnam's Covid-19 cases stood at 1,063, with 35 fatalities. How does a nation of 100 million people keep its tally so low? A public health system must either stop the infection from gaining a foothold in the first place or prevent it from multiplying. Since the former is nigh impossible, Vietnamese society as a whole has made sure that it aces the latter.
None of this is magic. Vietnam's success comes from a wealth of experience in dealing with infectious diseases, significant investment in public health infrastructure and a commitment to early action — Vietnam was the first country recognized by the World Health Organization (WHO) to contain severe acute respiratory syndrome or SARs in 2003.2 Shortly after, it also successfully combated the H5N1 bird flu. Many of the strategies used to suppress these diseases are again in use during the Covid-19 epidemic, in addition to new ones.
How Did Vietnam Do It?
In late January, Vietnam reported its first Covid-19 cases, a Chinese son and father, amidst the festive Lunar New Year Holiday, or Tet, the country's largest annual celebration. But thanks to decisiveness, mobilization, early detection and strong infection-containment measures, Vietnamese citizens were able to enjoy two long periods of no community transmissions — February-March and April-July.3,4
The third wave emerged from Da Nang on July 25 and quickly brought the city to its knees, with a much more severe impact than previous waves in the capital Hanoi and Ho Chi Minh City. Da Nang was put under lockdown three days after cases emerged. Authorities pursued the same strategies that they had been using effectively since January: meticulous contact tracing, strict quarantine and rigorous testing — but implemented everything more vigorously and with a broader scope than earlier.
Health officials have come up with a system that is referred as third-degree contact tracing.5 Covid-19 can penetrate, multiply and take hold of an individual rapidly, turning the victim into a weapon and helping it form a network of closely connected sufferers. Contact tracing is a road map for Vietnamese medical officials to tackle all legs of this network and prevent it from spreading further. The following paragraphs explain how they do it.
After a confirmed patient (F0) is identified and taken into treatment, those who stayed less than two meters from them for 30 minutes or more (F1) are also located. Local officials and medical officers co-ordinate with each other to conduct an epidemiological investigation, identifying places that the F0 has been and activities they have participated in for a week or more prior to testing positive. This dragnet then helps collect the identities of F1s.
The travel and activity history of confirmed patients is publicly available on government websites, news articles and social media posts. Such epidemiological traces also enable onlookers to check to see if they themselves are at risk and alert others around them, reducing potential spread. Concerns about privacy are inevitable, but many Vietnamese are happy to relinquish some personal information if it means saving lives.
Next, F1s are tested and quarantined for 14 days at a government facility regardless of whether or not they show any symptoms. Even if they do not test positive immediately, they still need to stay until the end of their quarantine. All quarantine-related costs, including food, accommodation and testing are covered in government facilities. The idea behind keeping quarantine accommodation free is to prevent people from using cost as an excuse to avoid isolation. F2s, identified as close contacts of F1s, are asked to isolate at home for two weeks.
The testing of suspected cases is mandatory — and they need not exhibit any symptoms. This approach may have been a key in reducing community transmissions, considering it is still not clear how infectious asymptomatic and/or pre-symptomatic Covid-19 cases are. Robust testing was enabled by the government's early conversations with companies specialized in medical testing,6 shortly after the first two coronavirus patients were documented in late January.
This indicated a strong inclination toward self-reliance, which turned out to be wise given how many public health systems around the world were laid low by the virus. By late April, data from health ministries compiled by Reuters showed that Vietnam had the highest test ratio per confirmed case in the world.
In addition, testing kits developed by the Vietnam Military Medical University and a Vietnamese company called Viet A Technologies JSC, produce faster results and are easier to use than those from the US Centers for Disease Control and World Health Organization (WHO), according to Vietnam's Ministry of Science and Technology, which funded manufacturing of the kits. This is not just propaganda — the kits have gone on to attract purchases by multiple countries, win approval from the WHO and gain a share of the European market.7
Thanks to testing capacity, authorities in Hanoi and Ho Chi Minh City (the two top points of origin for tourists going to Da Nang) were able to conduct mass testing for their residents upon returning from Da Nang, allowing them to detect many positive cases linked to the city. Those who went to Da Nang in July were all perceived to be under Covid-19 threat as authorities were not able to locate the patient zero of the third wave. And they were not wrong to have such an indiscriminate approach — within a month, the wave of local infections from Da Nang penetrated more than a dozen provinces and cities.
Another effective containment strategy has been shutting down the border. A week after the first cases were confirmed, on Feb. 1, Vietnam declared a public health emergency and halted all flights to and from China. The flight ban gradually expanded to other virus-hit countries. By late March, the country had suspended all international flights. Since then, only Vietnamese nationals and some foreign experts and businessmen have been allowed in with strict conditions, including mandatory testing and a 14-day quarantine.
All arrivals have to spend their quarantine at army-run camps or hospital facilities that are free of charge.8 Food expenses for foreign nationals are reportedly about double that of locals — the government is aware of diet differences and has made efforts to accommodate them by adding sausages and milk, thus increasing the cost.9 But in response to newly arrived foreign nationals wanting alternative quarantine accommodation, Vietnam has begun to offer the option of paid accommodation at hotels in various localities, which reduces the taxpayer money spent on government-run quarantine facilities. Starting in September, the government said all those arriving from abroad will have to bear the cost of their own quarantine regardless of whether they stay in government facilities or designated hotels.
Beside the flight ban, since earlier this year, the military has also been deployed to Vietnam's porous borders with neighboring Cambodia, Laos and China to prevent illegal entry. Such border restrictions have made the resurgence in Da Nang even more mysterious. On the same day the virus resurfaced in late July, Vietnam's Prime Minister Nguyen Xuan Phuc ordered an investigation of illegal border crossings after police busted a ring that had illegally brought foreigners into Da Nang City and nearby Quang Nam Province in central Vietnam. The crackdown led to a spate of arrests involving Chinese nationals entering the country illegally, meaning that they had skipped mandatory quarantine and had bypassed the country's Covid-19 prevention measures with the help of Vietnamese citizens.
The government has not explicitly stated that a Chinese national is patient zero for the latest wave, but that does not stop the public from going on social media and public platforms to expound on the theory and express how resentful they are toward their compatriots for being complicit and putting Vietnam's security at risk — historical anti-Chinese sentiment helps proliferate this view. Health authorities have yet to identify the source of transmission, unlike previous outbreaks where patient zero was quickly found.
What has also helped the country beat back the virus is a strong and timely public information focus on the disease. Authorities exhort the public to report themselves immediately if they think they are F1s or have any symptom related to the disease. They can follow guidance or call up hotlines provided by the Health Ministry on Facebook, TV and newspapers in case they get into such a situation.
People are informed up to the minute — the Ministry of Health quickly set up a website solely for Covid-19 updates as soon as the pandemic began, while local media report on new cases as soon as test results are confirmed.10 This level of transparency is unprecedented and uncommon. It appears that people are remarkably capable of changing their behavior given enough information and a certain degree of peer pressure.
While all of the aforementioned ingredients have helped Vietnam's success in preventing the collapse of its public healthcare system, the government did do certain things differently in the face of the third wave. First of all, it did not impose national social distancing or a semi-lockdown order as in April but opted for a more localized response to the recent surge of infectious cases. This is consistent with the government's desire to "achieve the dual goals of controlling the epidemic while maintaining economic growth." Vietnam is the sole economy in the Association of Southeast Asian Nations (ASEAN) not forecast to tip into recession this year, yet by no means does Vietnam have it easy — the country is bracing itself for its slowest growth in 20 years, a projected 2.4 percent, and increasing layoffs.11
While the successes of the first and second wave were characterized not by tech tracking solutions like what we saw in China and South Korea but manual contract tracing (the government's directive was "go to every alley, knock on every door, track every subject"), the same cannot be said in the latest wave.
The authorities have fervently exhorted the public to download Bluezone, a Covid-19 contact-tracing app developed by technology firm Bkav and the Ministry of Information and Communications. While only about 390,000 had downloaded the app by mid-July (right before the third wave started) per data from mobile app analytics firm Sensor Tower, latest government figures show a total of 17 million downloads by mid-August.12
It remains unclear what the government will do with this wealth of data after the epidemic is under control. This has made Bluezone a counterexample of Vietnam's uncharacteristic and extraordinary level of transparency in governance and public communications since the onset of the pandemic.
Public Power
Tellingly, community spirit is the catalyst for success. When Da Nang was put under lockdown, it did not do so without public support. All eyes were on the city. The Ministry of Health sent medical staff for backup. Volunteers formed groups to provide free meals and essentials to the poor and those in need in locked-down areas.13 Online, Vietnamese celebrities and social media users were sharing "stay strong" posts to show their support for Da Nang. Across the city, buildings shone with "I love Da Nang" light displays.
Da Nang was not the only city showered in love. Another example of community support are the rice ATMs set up around Vietnam to dispense free rice to help the unfortunate during the peak of the second wave in April. After the third wave swept the nation, the same Vietnamese man who came up with the rice ATMs also launched a facemask ATM that dispenses around 20,000 free masks a day. Neither of these initiatives was rolled out by the government.
Vietnamese society is typically collectivist. At times, though, the fabric of life feels fragmented and even individualistic. But when there is a crisis, especially one with a widespread impact exerted by an external force (an imported virus in this case), people come together like a strong fist. Public solidarity toward a common goal is the key element that has characterized Vietnam's Covid-19 success so far — and the public did not need to wait for the government to tell them to work together. Locals would not have characterized mask-wearing, staying home willingly and contract tracing as a Confucian citizenry as how Western commentariat have, but otherwise Vietnamese are not typically law-abiding — take a look at how frequently they break traffic laws.
Vietnamese also typically dislike hospitals. They usually only go to the hospital when they feel unwell. It is not common to go for a checkup for preventive reasons (this is probably the reason why Vietnam's age-standardized rate of cancer mortality is 104 and ranks 57th globally).14 So we see hospital phobia at play here when people focus on protecting themselves and their loved ones so they do not have to go to the hospital, especially given there is no cure for Covid-19 and a vaccine is still under development.
While the US has been embroiled in heated debates about wearing masks and social distancing, the same arguments do not exist in Vietnam. When it comes to major health issues especially, people in Vietnam want science and improvement. They trust experts and believe that they do everything they can to improve human health.
Diplomatic Strategies and Messages
Unity is the way to escape with the least damage in any crisis. When a country is confident that it has the resources to meet domestic demand, it might share the surplus to others for political gain — and this is also true for Vietnam.
In April alone, the country donated half a million face masks to five European countries: France, Germany, Italy, Spain and Britain. It also sent Germany 6,000 test tubes to aid the country in finding a cure for the Covid-19 disease — this was on top of US$300,000 worth of medical equipment sent as gifts to Laos and Cambodia. In the same month, Russia, now the fourth worst-hit nation, also received 150,000 masks from Vietnam at a time when confirmed cases there were already about 70 times more than in Vietnam. Donations of face masks have become an expression of global unity.
The government also saw economic gains in Covid-19 essential items. In April, they allowed local producers to capitalize on medical mask exports, protective garments and medical equipment when there was a high demand in many countries. France, which was severely hit by the virus, imported hundreds of millions of antibacterial cloth masks from Vietnam in May. In August, global demand dropped as countries around the world gradually collected themselves, leading Vietnamese mask exports to decline by a third.
Vietnam has also capitalized on the US government's purchase of 4.5 million made-in-Vietnam PPE suits by expediting the first shipment of the buy, further underscoring its Covid-19 donations in public statements and state media.
Looking at how Vietnam has differed in its behavior from the US, ostensibly the world's most powerful nation, can be instructive. One example is the case of Cuba. Vietnam's friendship with Cuba, exemplified by Covid-19 donations and continued partnership in bettering treatment of infectious diseases,15 counters the Trump administration's pressure on its allies to prevent Cuban doctors and medical staff from saving lives in many virus-hit countries.16 Vietnam has continued to work with Cuba and support the country and receive help from its medical expertise regardless of any ill effect it may have on their relationship with America.17
Another important example is Vietnam's partnership with the World Health Organization. The Trump administration may have found the WHO ineffectual, but not the Vietnamese government. The organization has been working closely with Vietnamese health officials since late January, which helped replicate past successes when the WHO aided the country's fight against SARS in 2003. Again, unity in any crisis is the way to escape with the least damage.
Finally, any discussion about the two countries would not be complete if the Vietnam War did not come up eventually. A peculiar phenomenon has taken place: Multiple Western journalists and observers have compared American Covid-19 fatalities with the tens of thousands of Americans killed in that war, as if to shame the US's catastrophic response to the crisis as opposed to the tremendous success of a developing country it once fought. From an American viewpoint, it is understandable to see how such a comparison came about considering the fact that since the end of the war, Americans have used it as a somber metric by which all other conflicts are measured in terms of horror and loss of life (including the Iraq and Afghanistan wars). However, from a Vietnamese perspective, this comparison is unequivocally insulting considering it was made without simultaneously recognizing either the havoc wreaked on the Vietnamese people and land over two decades of conflict or the reasons why the country has managed to suppress the virus while the US has not. Such lazy comparisons serve as a buzzword to American and global audiences and a crude means to calculate the US's public and political failure. Tragedies in both the Covid fight and the Vietnam War could have been avoidable — the same can be said for this sad tokenism of Vietnam's painful experiences.
What's Next?
To the point, Vietnam has challenged assumptions and perceptions in the Covid-19 era. Just two months before it had its first case, Vietnam was ranked 73 out of 195 countries in the Global Health Security Index co-authored by the Johns Hopkins Bloomberg School of Public Health.18 The survey measured the readiness of countries to respond to health emergencies like pandemics and Vietnam was far behind countries like the United States and Spain that became the biggest epicenters of Covid-19.
In what may seem like an anomaly, Vietnam does not have the advantages of robust medical power, huge resources and scientific expertise that richer states boast. But it has proven that what advantages it does have seem to be just enough so far to beat back the invisible virus. And Vietnam is not the only country in Asia with consistent success. The region offers numerous lessons to world leaders willing to listen and learn so that they can save time, resources and lives in this fight and others to come, for the Covid-19 pandemic will certainly not be our last.
Vietnam should be an inspiration for global health actors, but that status also comes with a great responsibility — for it has set a new standard for itself. For one, the country is expected to continue its track record of beating infectious disease and amplify the efficient and transparent operation that made accomplishing such a task possible. Looking to the future, Vietnam will have to stay at the top of its game to meet future health challenges.
Most importantly, transparency is the key factor. Going forward, Vietnam has shown its people and the world what can be achieved when sound and effective public leadership and healthcare measures are accompanied by transparency, thus increasing hope and the desire to see more of it.
Notes
1 For reports of the first deaths, see VnExpress, at https://e.vnexpress.net/news/news/vietnam-reports-first-covid-19-death-4139149.html https://e.vnexpress.net/news/news/vietnam-reports-second-covid-19-death-4139530.html https://e.vnexpress.net/news/news/vietnam-loses-one-more-person-to-covid-19-4139648.html
2 "Vietnam Took Lead In Containing SARS," The Washington Post , May 5, 2003, https://www.washingtonpost.com/archive/politics/2003/05/05/vietnam-took-lead-in-containing-sars/b9b97e91-b325-42f9-98ef-e23da9f257a0/
3 "Coronavirus miracle? Vietnam says all its infected patients cured," Al Jazeera, Feb. 29, 2020, https://www.aljazeera.com/news/2020/02/infected-patients-vietnam-cured-coronavirusmiracle-200228035007608.html
4 "Vietnam's first coronavirus outbreak in 99 days spreads fear, anxiety," South China Morning Post, July 31, 2020, https://www.scmp.com/week-asia/health-environment/article/3095403/coronavirusvietnams-first-outbreak-99-days-spreads
5 "Emerging covid-19 success story: Vietnam's commitment to containment," Exemplars in Global Health, June 20, 2020, https://www.exemplars.health/emerging-topics/epidemic-preparedness-andresponse/covid-19/vietnam
6 "After aggressive mass testing, Vietnam says it contains coronavirus outbreak," Reuters, April 30, 2020, https://www.reuters.com/article/us-health-coronavirus-vietnam-fight-insi-idUSKBN22B34H
7 "20 countries, territories order Covid-19 test kits made in Vietnam," VnExpress, March 17, 2020, https://e.vnexpress.net/news/news/20-countries-territories-order-covid-19-test-kits-made-in-vietnam-4070785.html ; "WHO approves made-in-Vietnam Covid-19 test kit," VnExpress, April 26, 2020, https://e.vnexpress.net/news/news/who-approves-made-in-vietnam-covid-19-test-kit-4090402.html ; "Made-in-Vietnam Covid-19 test kit approved for sale in Europe," VnExpress, April 22, 2020, https://e.vnexpress.net/news/news/made-in-vietnam-covid-19-test-kit-approved-for-sale-in-europe-4088436.html
8 "Coronavirus: life inside Vietnam's army-run quarantine camps," South China Morning Post, March 24, 2020, https://www.scmp.com/week-asia/health-environment/article/3076734/coronavirus-life-inside-vietnams-army-run-quarantine
9 "Hanoi military camp works hard to feed 700 Europe returnees," VnExpress, March 21, 2020, https://e.vnexpress.net/news/news/hanoi-military-camp-works-hard-to-feed-700-europe-returnees-4072317.html
10 Vietnamese Ministry of Health Covid-19 information website, 2020, https://ncov.moh.gov.vn/
11 "Vietnam dodged the coronavirus bullet, so why are its workers struggling?" South China Morning Post, Aug. 31, 2020, https://www.scmp.com/week-asia/economics/article/3099327/vietnam-dodgedcoronavirus-bullet-so-why-its-economy-so/
12 "Số lượt cài ứng dụng tăng mạnh, Đà Nẵng bắt đầu truy vết qua Bluezone," Nhân Dân, Aug. 13, 2020, https://nhandan.com.vn/thong-tin-so/so-luot-cai-ung-dung-tang-manh-da-nang-bat-dau-truy-vet-qua-bluezone--612690/
13 "Coronavirus: in Vietnam's Da Nang, locals send cash, food as lockdown hits city's poorest," South China Morning Post, Aug. 16, 2020, https://www.scmp.com/week-asia/people/article/3097525/coronavirus-vietnams-da-nang-locals-send-cash-food-lockdown-hits
14 "Cancer in Viet Nam," World Health Organization, https://www.who.int/vietnam/health-topics/cancer
15 "Vietnam, Cuba boost co-operation in Covid-19 treatment, research," Voice of Vietnam, Aug. 19, 2020, https://vovworld.vn/en-US/news/vietnam-cuba-boost-co-operation-in-covid19-treatment-research-893368.vov
16 "US allies, encouraged by Washington, said goodbye to their Cuban doctors. As coronavirus surges, some are arguing for their return," The Washington Post, April 10, 2020, https://www.washingtonpost.com/world/the_americas/coronavirus-cuba-doctors-trump-ecuador-brazil-bolivia/2020/04/10/d062c06e-79c4-11ea-a311-adb1344719a9_story.html
17 "Cuba assists Vietnam with medical team, antiviral drug for Covid-19 fight," VnExpress, Aug. 6, 2020, https://e.vnexpress.net/news/news/cuba-assists-vietnam-with-medical-team-antiviral-drug-for-covid-19-fight-4142191.html
18 "GHS Index, Global Health Security Index, Building Collective Action and Accountability," Global Health Security Index, October 2019, https://www.ghsindex.org/wp-content/uploads/2019/10/2019-Global-Health-Security-Index.pdf
---